This page is dedicated for people to share their stories about the impact of Independent Facilitation. Our hope is that stories will continue to be added so we can be inspired again and again. Enjoy!
---
McKenzie's story:
This video shows how social inclusion can lead to a purposeful life for individuals facing significant challenges in daily living. Through creativity and collaboration within the community, strong reciprocal relationships can be built. McKenzie and his independent facilitator worked together with his family and his community to build a full life and the video shows how that has also impacted his community in a positive way.
Community first with Kurtis
When Kurtis first became involved with his facilitator, he was nervous about moving to a new town! Kurtis worked with his facilitator to explore his likes, dislikes, dreams, strengths, and goals. With the support of Kurtis' circle, Kurtis and his facilitator accessed community as a first resort.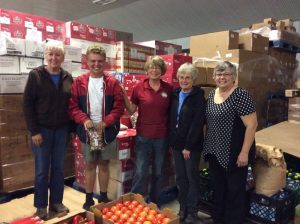 Today, Kurtis has a busy life in community! He has relationships and belonging. These days, Kurtis enjoys volunteering at the Huron County Food Bank Distribution Centre and participating in Nerd Nites with the The Cultural Collective on weekends.
---
A story from a family perspective
Facile a word that has many definitions, but the most fitting words in this case are "acting, working, proceeding". We were very fortunate to have access to Facile independent planning and facilitation to do future planning with our son McKenzie.
As a parent of a child with special needs, navigating the system can be daunting, complicated and exhausting. And in addition, let alone the looming future of uncertainty that lies before us as our child finished his high school career and entered the land of unknown.
Thankfully our Facile facilitator provided us the most important thing…"hope". After the first meeting, I felt, 'We can do this. There will be something for McKenzie. There is hope after all'.
Through the months of meetings and planning, we have been able to carve out plans for McKenzie's future ensuring he has quality filled meaningful days that meet his needs and interests, as he enters the true world of 'adulthood'. The facilitator has provided us with support, encouragement and guidance as well as the knowledge and resources along the way. If we had to endure this journey on our own, it would have been one filled with floundering frustration, road blocks and grief.
We truly appreciated the giftedness of the Facile team and how they have truly made a positive and hopeful difference in our lives, especially McKenzie's.
Facile is a service I truly and highly recommend to all parents/caregivers/individuals who are needing to carve a path in their future. Your journey should never be alone and thanks to Facile, it hasn't been.
Stay tuned for a story about McKenzie and how his life looks like after being out of school for almost a year!
McKenzie, a year after graduating highschool. What is he up to? 
McKenzie, a 21 year old man who graduated high school last summer. For most families this would be an exciting time, but not for McKenzie's family. For them this was a time of fear and worry because how would his life look like in a couple of months. How would their lives change? Would McKenzie graduate to the couch?
McKenzie is a young man with a developmental disability. McKenzie will not attend college or university and he will need 24 hours of supports, for which at this time there is no funding available.
Kevin and Vicky wanted a facilitator to help them think about McKenzie's future and to help them navigate the system. It would be a journey of making connections and thinking outside the box.
After some initial meetings with McKenzie and his parents, the facilitator spent some time at school. She observed McKenzie in his class and talked to some of his teachers and educational assistants. Since McKenzie has limited speech it was important to the facilitator to see him in a different environment and to talk to people who see McKenzie on different occasions. She wanted to learn about the things that make McKenzie excited.
The facilitator organized and facilitated a circle meeting. At this meeting 14 friends came together and shared great stories about McKenzie but also brainstormed about possibilities for McKenzie in his community. The possibilities were endless and so was the love for McKenzie. It was very clear from this gathering that McKenzie is very much part of his community and that people have dreams and hopes for him.
Out of these meetings and gatherings the family and the facilitator set up some goals and went to work! Connections were made and although there is still lots of work to be done, McKenzie's days started to fill up with activities that are meaningful to him and his community!
McKenzie didn't graduate to the couch.
He works one afternoon a week at the local nursing home. He has also been volunteering at different places in his community. He volunteers at the local thrift store, at the local public school and he recently started to volunteer at the library. These are not only meaningful to McKenzie but also important for his community.
McKenzie was also actively involved with the Ringette team and the local hockey team. He now swims every week which might be one of the highlights of his week.
Currently, McKenzie is looking into another paid opportunity together with the help of his job coach.
The facilitator will continue to walk this journey with the family, this is just the beginning of an exciting and adventurous life for McKenzie!
---
Introducing Paul, "B-Boy Small Change"
While living in a small rural community might have many advantages, it can also bring some barriers. Especially when your passion is not something that is very common it forces people to think creative and out of the box in their search for a meaningful life.
When the facilitator met Paul it was clear that Paul wanted more meaningful things in his life. He was looking for a job but wasn't successful so far and he really didn't know what he wanted to do with his life.
While exploring his gifts and passions it really wasn't difficult to find out what Paul was passionate about. His love for breakdance often came up during their conversations.
Through his facilitator Paul got to meet and dance with Luca "Lazy Legs", a motivational speaker and break dancer. This meeting was the inspiration for bigger dreams. Paul shared with his facilitator that he wants to teach children how to breakdance.
Breakdance is not a popular scene in his community so creative thinking was needed and Paul and his facilitator did just that.
She connected him with two organisations that offer summer camps to children and Paul offered to teach breakdance workshops. Both organizations loved the idea and gladly accepted his offer.
Together with his facilitator he worked on how this workshop should look like and when summer came Paul was ready. His first workshop was a great success and they asked him back for another workshop that same summer and also asked if Paul would be available for next summer. The other camp was also a success, he did two sessions there. The kids had a blast, learned many new skills and Paul was slowly becoming a celebrity in his community. Many kids asked for his autograph after a workshop!
After the summer Paul showed off his skills at a general meeting and he performed at the OIFN Forum in November.
At the end of November Paul did his first two workshops at a public school, realizing his dream, teaching kids how to breakdance. More schools followed and this summer Paul will be giving several workshops at different summer camps and dance schools in Perth County.
Paul is a very talented break dancer and this is just the beginning of his journey in the world of breakdance!
If you are interested in learning more about Paul and his workshops or breakdancing, please contact us and we gladly connect you with him!
---
Steve's Employment Venture
Steve was new to his community and although he had made himself quickly at home, he had many dreams and wishes for himself! This is a story about believing in yourself and chasing your dreams.
When Steve and his facilitator started their exploration one thing stood out. Steve might be in his fifties, but he wanted a job!
Steve was eager and didn't let anyone stop him. He handed in resumes and would talk to anyone who he thought would be able to hire him. Unfortunately for Steve this was not successful and many people told him to just retire and stop looking for a job. Steve was pretty frustrated when he met with his facilitator.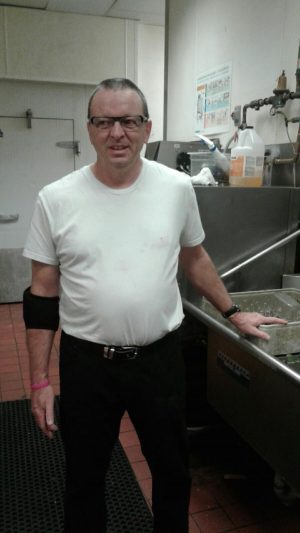 With the support of his facilitator he didn't stop. She connected him to a program through an employment agency. Steve was accepted and went to their program for 4 weeks, 5 days a week. His family was worried that it would be too much, but Steve wanted to give it a try and did he ever! During this program he learned how to write a resume, how to do a job interview and he collected some great certificates. He successfully finished the program and showed everyone that giving up is not an option and perhaps more importantly he was very proud of his accomplishment.
After this program the search continued, but Steve was more confident and didn't let the disappointments stop him. In the meantime he worked with his facilitator on other community connections as well. He joined the bike club and was warmly welcomed there and he started working on his literacy skills. Steve joined a chess club and volunteered at Special Olympics and met many new people and made many new friends.
And then finally there it was; the job! Steve started working at Boston Pizza for 1 ½ hours a week, doing janitorial work. Soon the managers at Boston Pizza noticed that Steve also had an interest in doing the dishes and it didn't take long before he was asked to do a dishwashing shift on a weekend, at one of their busiest times.
The facilitator and the job coach were a bit nervous, because this was a job with time pressure and more responsibilities, but Steve didn't think twice and gladly accepted the opportunity.
And did he show everyone that not giving up and following your dreams is the right thing to do! Steve did an excellent job dishwashing and is now doing the dishes every weekend and picking up many other shifts throughout the week.
He sure proved everyone wrong! Steve is proud, confident and has grown immensely.
In the meantime, he also moved out of his family's home and enjoys living in Stratford. He has made many new friends and the future is looking bright!
---
 Paige's Pathway to Success!
---
Supporting Arthur in Transforming His Life:
Arthur's anger was a normal response to his long-term frustration and aloneness: from boyhood he had lived life as an outsider while struggling to cope with his disability, undiagnosed until his early thirties.
Eventually, Arthur's mother discovered independent facilitation through a referral to Facile Independent Facilitation by the regional DSO, as part of the Ministry funded Independent Facilitation Demonstration Project (IFDP).
As they say, the rest is history. Arthur, with the support of his facilitator, began a dynamic cycle of planning and action. Arthur began receiving individualized supports tailored to his needs and goals. In a very short period Arthur's life took off and he continues to grow, become more confidant and try new opportunities.

This video – and Arthur's genuine smile – demonstrates the power and contributing role of independent facilitation in supporting a person's voice and supporting Arthur's decision making, and bringing in others to Arthur's personal support network to support him to live the life he wants
---
A Letter of Appreciation
A letter from a family member is a story in and of itself. Thank you for the encouragement, Jo Ann!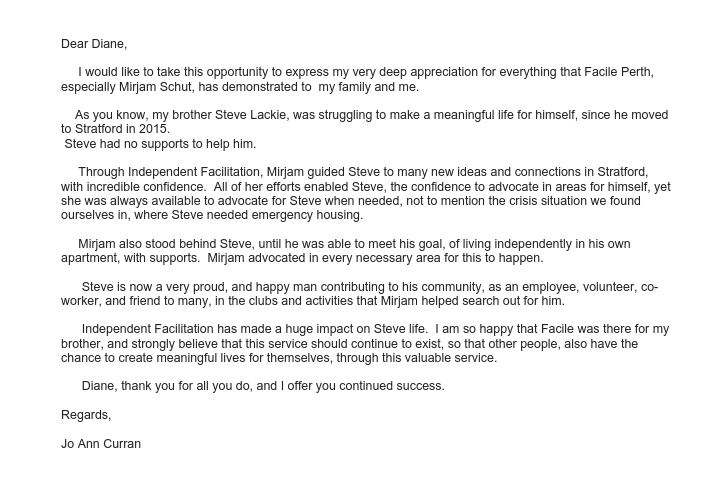 ---
Creative Talent leads to Artisan Business
"One of the goals I had for myself when I first met my facilitator was for me to find employment.  This was something that had not gone my way in the past" shares Bridget.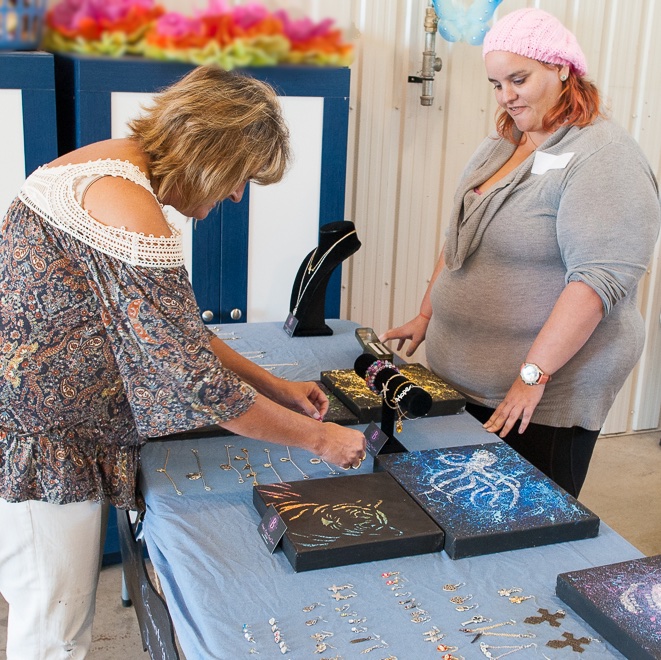 By participating in independent facilitation,  Bridget was supported in taking a different approach to finding meaningful work.  With a facilitator, she started to explore her talents and strengths.  She then choose to harness her creative talent and start her own jewellery making business! Her facilitator supported her in exploring her business idea, making key connections and identifying places to market her goods. Bridget now indicates "I couldn't be happier with the work part of my life".
Interested in getting in touch with Bridget to purchase some of her pieces or invite her to an event? Leave us a message on our 'contact us' page.   We are happy to pass it along! Otherwise, Bridget's Country Casual Jewels can be found at markets around the Kincardine community.
---
Cultivating Meaningful Connections
When high school ended,  Isaac and his family were not sure what the future would hold.  With long wait lists for support, the family and Isaac fell into a familiar pattern of making things work while waiting for needed resources.  At the onset of independent facilitation, Isaac, his facilitator and family, took to time explore what he would like to do.  This involved talks around the kitchen table, the use of technology and short conversations to build trust and rapport.  Over time … a plan was developed.  The facilitator followed up on Issac's interest in farms and explored a possible connection with horses.  Isaac's love of therapeutic riding was unearthed.  He quickly developed a close relationship with 'Fred' a patient Fjord, an amazing riding instructor named Diana and a group of volunteers from Hope Haven.  Isaac's riding skills grew along with his confidence. Recently he volunteered to be the demonstration rider at a community event, as shown in the photo above.  The facilitator also supported the family in exploring their relationship with Isaac, connecting to local resources and considering potential uses of passport funding in line with Isaac's personal needs and goals.  "Facilitation helped us be creative with our sons supports.  We feel like we know him better now." indicates Isaacs father Angel.  What's next? Isaac and his facilitator are going to explore possible volunteer positions and social connections with friends his age.  The future is full of possibilities waiting to be discovered.
---
Passion and Drive lead to new Horizons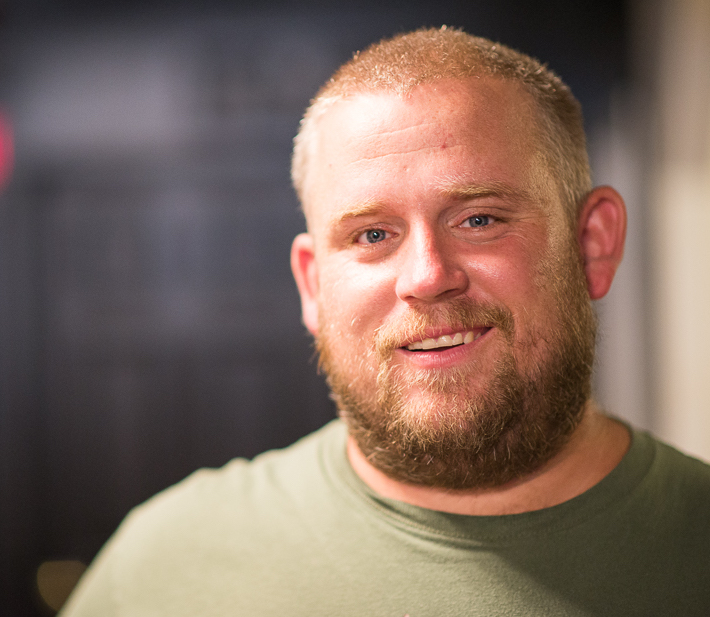 Harv Potts is a passionate and eloquent young man.  Along with becoming a motivational speaker, Harv had the dream of continuing his post-secondary education. Through facilitation, Harv applied to a college program, secured financial supports/grants and developed a new network of connections in the Sarnia region.  In fall 2016, he started school at Lambton college. His frequent updates share news of top marks and his joy of learning. Harv continues to inspire people, most recently speaking at the Facile 'Celebrating Diversity Day' in Grey Bruce. He has also started to volunteer at a faith based program designed to support people facing poverty. A true sign that supporting people to follow their dreams can start a ripple of positivity.
Update April 2017:  Harv has successfully completed his first year of college unearthing a love of pottery!  Like many students, he faced some real life challenges.  Harv was supported through these with a team of caring friends, his educational staff and his facilitator. Harv remains passionate about building a life in the community of his choice and will continue to work with a Huron/Perth Facilitator to tackle real life in the year ahead.  Congratulations Harv on achieving your dreams of attending post-secondary and experiencing life in a new community.
---
A Commitment to Community
Anyone who has met Bobbi Jo knows that she loves to give to community! Last year brought an unexpected move  away from a city she had been residing in for years.  Bobbi Jo and her facilitator set out to develop some new friendships and opportunities for her to share her gifts.  Through facilitation, Bobbi Jo explored and joined a community kitchen program that offered up some amazing new recipes and good friends.  She also started volunteering at the Markdale Public Library.  Bobbi Jo's fun personality and quirky sense of humour was a quick fit with the dedicated and warm staff.  When asked what she thinks of her role at the library?  She smiles and says "It's fun, I like it". What's next on the horizon? Bobbi Jo is joining an art program/'evening out' series in her new community.
---
A story of Empowerment and Growth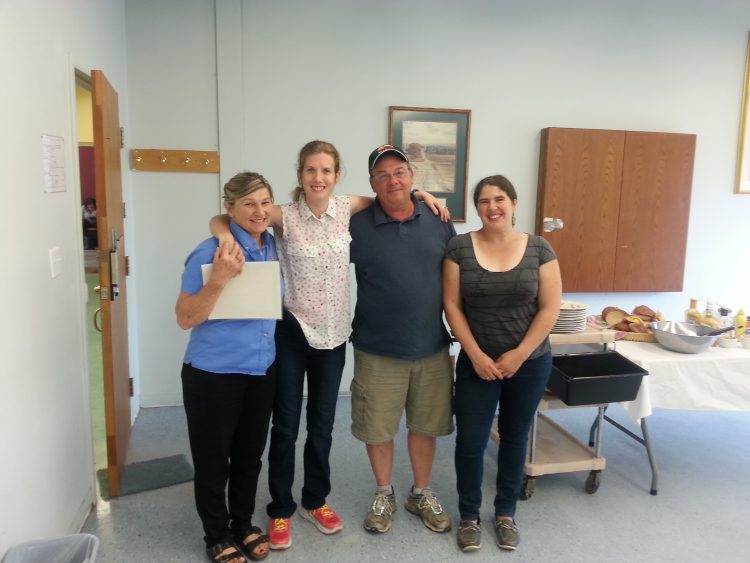 Maddy has a life rich in family and structured supports.  Through facilitation she unearthed a dream of participating in a culinary arts program and a desire to work with animals.  Maddy and her facilitator made a connection with a local Trade Start program offered through the Wiarton Salvation Army and the Grey Bruce Animal Shelter.  In June of 2016 Maddy graduated from the Culinary Program and achieved her food safety certificate along the way!
She has also become a valued volunteer in the cat room at the animal shelter, where she helps cats to socialize in order to increase adoptability. The true magic happened when June met Maddy.  The staff had forewarned Maddy that June was not super friendly and preferred to hide away and avoid contact.  Within minutes of their first meeting, Maddy had won June over with her compassion and warmth. Over time, June in turn won Maddy over and she became the latest member of Maddy's family. Maddy and her family recently had their first circle meeting, with family and supports joining in via Skype, in person and on the phone.  Everyone had valuable contributions and ideas to share and Maddy landed on two new goals for the 2017!
---
A man on the Move! 
If you have a chance to chat with Ryan, the first thing that you might notice is his positive attitude!  When Ryan's facilitator first connected with him, he was living at home and had a dream of moving to his own apartment. He also wanted to obtain his drivers license and determine what type of employment he was interested in.  Ryan spoke honestly about the challenge of living in an isolated rural community without a drivers license and his interest in meeting more friends.
Well it wasn't long before Ryan had relocated to a larger community still within a reasonable driving distance for his family. He has a great apartment and is a frequent caregiver to the family dog Molson.  Through facilitation Ryan made connections at a local Thrift Store and started volunteering two days a week where he helps with testing electronics, separating and storing items and assisting with store renovations. He also secured a paid position shovelling snow for the store.  Ryan has a clear goal of gaining new skills and getting a  reference for future paid employment. Ryan and his facilitator also made some new connections at the Bruce Peninsula Sportsman Association where he impressed members with his strong skills in archery. Ryan is looking to become involved with more aspects of the club in the new year. With his positive approach, willingness to lend a hand and desire to succeed … Ryan is setting a course for many exciting achievements!
Update April 2017:  Ryan has decided to re-enter the land of learning and is enrolled in a community carpentry program!  Ryan is enjoying the work and excited to learn skills that will propel him forward in his career.
---
Finding Community one Hand at a Time
Robin lives in a small rural community where transportation offers some challenges. While she is connected with a good support team and attends some structured activities in a local community, Robin and her facilitator wanted to explore a way to build upon her strengths and interests to create natural connections in her immediate community.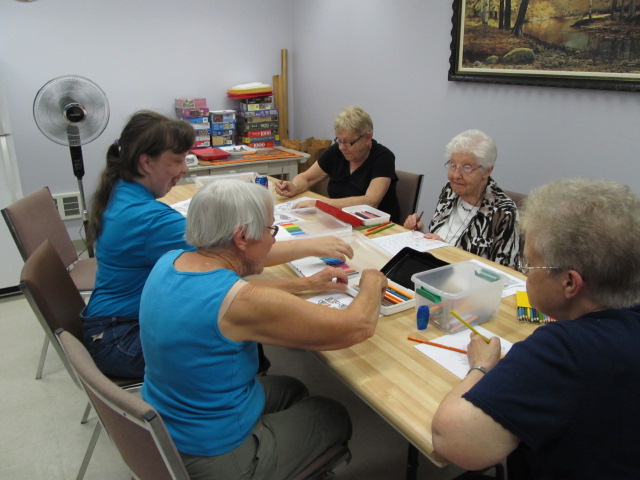 So they began knocking on doors, literally.  This is how they met Evelyn Howe, who resides at Neustadt Hillside Manor.  Evelyn and Robin discussed the idea of an adult colouring program. Robin discovered that her passion for colouring was a shared interest that could open new doors.  The photo shows a class that Robin and Evelyn hosted with a group of community participants.
Robin and her facilitator also explored her skill of providing hand massages. This involved linking with a woman who makes 100% natural lotions and a local person who is committed to health and wellness. Robin had an opportunity to learn some new techniques and begin to dream up new ways to connect with her community.  In the future Robin hopes to be offering a session of hand massages through the West Grey Public Library – Ayton Branch at their upcoming Wellness Break.  With a nurturing gift like this, the possibilities are numerous!
Update April 2017:  Robin was invited to the Wellness Break offered through the West Grey Public Library in Ayton where she completed a lot of hand massages!  This event was so successful that she was extended an invitation to complete hand massages at another event.  Robin is currently exploring other places to share her gift in her community.
---
A Winning Hand!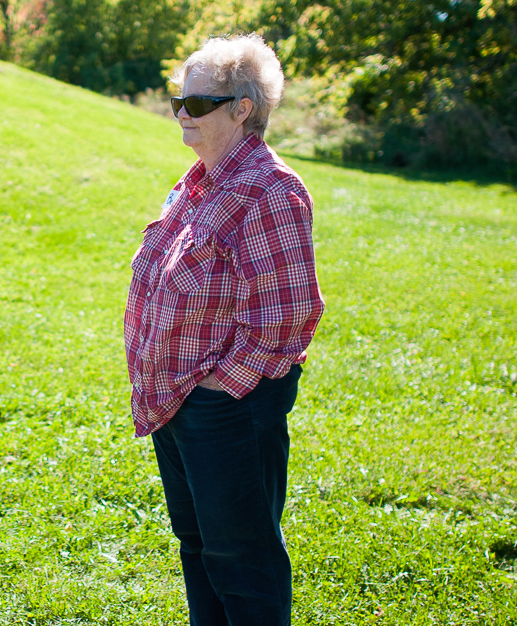 Everyone who has played cards, knows the power of connection when  a group of diverse people sit around a table joined in a game of skill and sometimes simply luck! Bonnie moved to a new community and found it challenging to find places where she felt at home and comfortable participating.  Through facilitation she found the Harrison Park Senior's Centre which offered just that and a lot more! Bonnie has attended the sing-a-longs and regular card games. Not only has she made many new connections, she has been offered rides by another attendee (a sure sign that your in!).  Whether she is enjoying the rich music from musician Nancy Ireland or joking with with the group, Bonnie's sense of belonging is evident.  Bonnie and her facilitator are also exploring adult literacy programs, other avenues for social and recreational connections and supports that Bonnie needs to stay in her current home.
** Update: April 2017 –  Bonnie took her card playing skills and entered Springfest 55+ Games  in Owen Sound.  This Euchre Tournament drew 52 participants. Bonnie and her partner tied for first place out of the 26 teams. They will move on to play in the District Senior Games.
---
Celebrating Diversity
On a beautiful sunny day in September 2016, a group of 93 people gathered together to celebrate the unique gifts and talents that each individual has to offer their community.  This day was a partnership between the Grey Bruce Family Network, the Grey/Bruce Facile team and Hope Haven Therapeutic Riding Centre.
The grounds at Hope Haven offered a spectacular setting for the day, which included: a walking tour of the trails, horsemanship demonstration by Isaac Esperanza and instructor Diana, a choice of workshops offered by individuals sharing their personal journeys, information sessions from Passport and Financial Planners, drawing sessions with Artist Rachel Oliver, key note speaker Hav Potts talking about the value of community, a barbecue lunch and more!  Special thanks to our sponsors Chapmans Ice Cream and Markdale Foodland.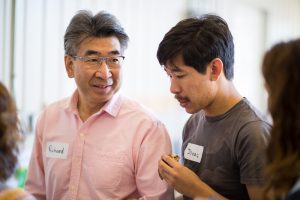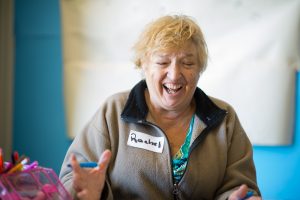 Update April 2017!   We just received news that we have been approved for a summer student in Grey/Bruce.  This individual will be co-coordinating  our upcoming  2nd 'Celebrating Diversity Event'.  Interested in volunteering or joining us for the day?  Stay tuned!
---
Transition and Change
Andrew grew up on a farm in rural grey county  He has a love of horses, a passion around connecting with people and a strong sense of faith.  At the onset of facilitation, Andrew was clear that he wanted to move to a more urban area. He was not sure what this would look like or how to make the transition happen.  He was also clear that he wanted more social connections, independence and meaningful employment.
Through facilitation, Andrew and his facilitator explored the skills he would need to live independently, his interests, strengths and possible employment sectors that he could pursue. This involved talking, getting feedback from family, investigating and trying different things.  This picture is of Andrew at a one day job trial with JCB and Sons.
Today, Andrew has his own apartment in an urban community.  With his facilitator, he continues to talk about his personal goals and he is setting them at a fast pace!  He has a connection with CNIB and is starting to explore independence in daily living and in the broader community.  He hosts a 'game evening' in his apartment building.   Andrew is and always has been a natural connector, so this is an ideal time for him to share his gift in his new community.  What's on the horizon?  Andrew is focused on gaining independence in his apartment and community and finding  meaningful work!
Update 2017:  Andrew is volunteering with Bruce Lea Haven and looking forward to forming new relationships with residents, staff and fellow volunteers.  He will be sharing his gifts through music and 1-1 visiting. He is enjoying life in his new home and community.
---
Sarah's New Home
Anyone who has had the joy of meeting Sarah knows what a gregarious and warm soul she is.  She is the social convenor in her group of friends – always hosting holiday gatherings and getting together for chats over lunch or tea.  While Sarah's fun personality has never faded over time, she has faced some big challenges in life.  Perhaps the biggest challenges was how to find housing in her home community that met her complex medical needs. Sarah had a dream of living away from home, as most adults do, unfortunately she was not a fit for local supports.  After many years on a wait list it was evident that an innovative response was required.
Over the past 2 years, Sarah, her family and facilitator have worked diligently to create a solution. This involved partnering with a service provider, new to the region, who could met her needs.  In April of 2017 Sarah moved into a new house in her home community!  While planning for moving day, along with the list of things she wanted to take with her, she was busy creating lists of friends to invite for tea!
Sarah will be hosting an open house to welcome everyone from her social network to see her new home, along with new neighbours on her street. At a recent circle meeting, Sarah, along with friends, family and support staff,developed a list of things for her to explore in the upcoming months.
---
A New Life in Community
Shortly after graduating from high school, Laura moved from a small rural community where she grew up to living independently in a much larger community. Laura has a keen interest in food preparation and a gift for making others feel good about themselves.
Exploring natural connections for Laura in community lead to a volunteer opportunity with O'SHaRE. This non-profit charitable organization had just started a new initiative, to offer bagged lunches on Saturdays in response to a need in the community. Laura works with the other kitchen volunteers every Friday morning to join in this community effort. After a few months Laura expressed her interest in also serving meals one night a week with O'SHaRE. When Laura was asked what she likes about volunteering at O'SHaRE she said "I would be a positive influence on people, every person deserves to be treated well."
Every week Laura is meeting new people in her community and sharing her gift of 'extending positivity to others in a deeply conscious way'.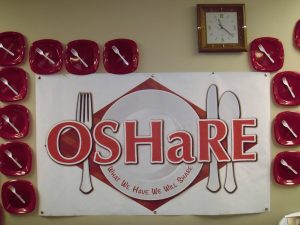 ---
---